Real Estate & Construction Law Attorneys in Murfreesboro, Tennessee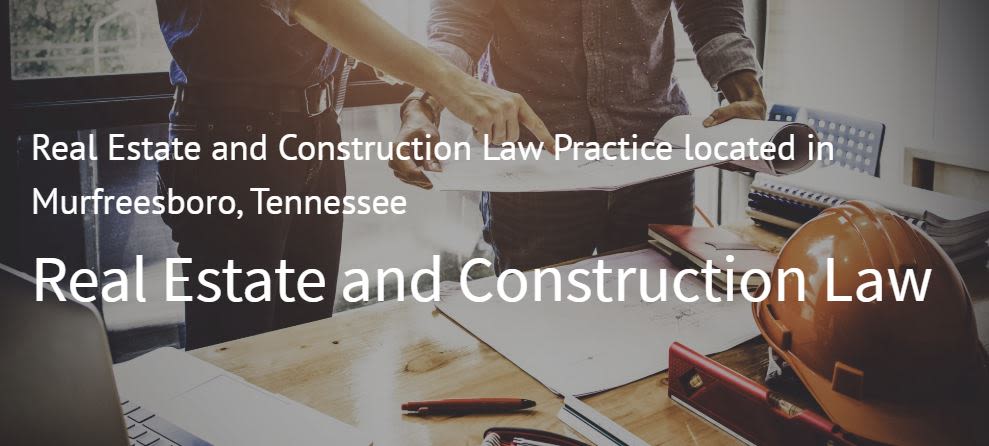 Whether buying a prebuilt home or building your home from the ground up, it is an exciting and stressful process. Buying or selling a home requires handling a lot of moving pieces and parts. There is the need to perform title searches, prepare the purchase or sale agreements, and handle document review and navigate the closing process.
Many people may attempt to handle these things themselves or through a real estate agent, but legal documentation and deal closing can sometimes require the legal expertise offered by real estate lawyers. This is particularly true of properties encumbered by liens or clouds on the title. If you are in need of assistance during the sale or purchase of a home, the legal team at McCarter | East PLLC can help. Call us today for more information.
Additionally, when purchasing a new construction home, on some occasions, this process does not always go according to plan. Whether the issue is construction defects (both in new homes or in remodels) or breach of contract issues, it is important to have attorneys familiar with construction litigation. Whether you are trying recover from a contractor for a poorly completed job or for work not yet completed, or whether you are a contractor defending against a claim of poor workmanship or breach of contract, it is not an easy process.
You need an attorney familiar with construction law who can partner with you to help you obtain the desired outcome. At McCarter | East PLLC, we have attorneys who completely meet this requirement. Call us today for more information and see how we can help you.
Inverse Condemnation
---
For many people, owning land is one of the great accomplishments in a person's life. It can be devastating when something comes along that threatens that ownership. Unfortunately, that threat can sometimes come from our government and/or other associated entities. Most people know that property/land must be purchased by the government for just compensation when the land is going to be used for a public purpose, and the Constitution prohibits the taking of private property without just compensation. However, on occasion, fair compensation does not occur, and the remedy to address unfair compensation is referred to as a "reverse condemnation" or an "inverse condemnation" action.
For these types of actions, the taking of the private property can occur through a physical taking where the private property is taken without just compensation or where appropriate/formal condemnation proceedings have not been conducted for eminent domain actions. Takings can also occur through a regulatory taking where regulation denies an owner economically viable use of his or her property. This may sometimes look more like an "indirect" taking of a property's access or visibility or any number of other associated qualities of the respective property.
Whatever situation may be threatening the ownership of your property, McCarter |East PLLC can help. The real estate and property attorneys at McCarter | East PLLC have years of experience dealing with issues such as these, and they are passionate about protecting the residents of Middle Tennessee and the surrounding area's land rights. If your land ownership is being threatened, do not navigate this trying time on your own – give us a call today and let us help you protect your interests.